January 31, 2019
Scholarship Application Now Available — Apply Online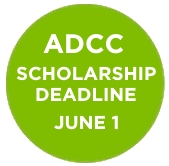 A core component of the ADCC's mission is to support excellence by providing college scholarships for outstanding young dancers.
Each year, The ADCC receives 45-75 applications, and awards up to 5 scholarships. Since 2014, The ADCC has awarded 73 College Scholarships totaling $56,250.
Who is eligible?
Any 2019 graduating high school senior who has been accepted to a four-year accredited college or university program for the 2019-2020 school year, and who has competed in at least 2 ADCC Member competition events during the 2018-2019 seasons*, is eligible to apply.
For a list of ADCC members, please see the logo bar below.
Applying is easy. Students just need to complete the online application form, and provide a personal essay, a letter of recommendation from their dance studio director or teacher, a high school transcript, and a headshot.
Applications are due no later than 5:00 PM on June 1, 2019.
Scholarships are $1,000 and will be mailed directly to winning students' colleges or universities.
For questions please email: info@theadcc.org.
* Exceptions will be made if extenuating circumstances apply.
Apply for College Scholarship Now!